Homework Information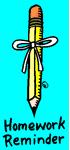 The Reading Log/Sight Word Homework is due on Fridays.
GO MATH Homework is due back to school the very next day after it's given.
Sight Words:
Students should practice their sight words every night.
Four new sight words are sent home each week.
Your child should learn to read AND spell these words.