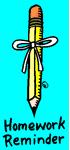 Homework: June 19th

It is hard to believe that Monday (noon dismissal) is the last day of school this year!! The girls and boys have been sharing their Character Book Reports and recommending/not recommending the book to others.
*I will provide a snack of juice, popcorn, pretzels, goldfish, etc. on Monday, so you don't need to pack a snack (unless you want to).

                             Have a fun and safe summer!!!

                     (of course, don't forget to read and practice math facts when you have time)

*Homework for Grade 2 should take about 20 minutes a night. If your daughter/son has difficulty completing an assignment in this time frame, just send in the incomplete page, and we'll go over it in class.