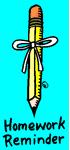 Homework: Week of September 2, 2014
Homework this week - write about and illustrate one of your favorite activities from this summer (on the paper provided). Due by Friday. We will put all of the pages together to create our first class book.
Parents have homework this week, too - please fill in and return all of the information sheets that will be sent home on Tuesday.                            
*Homework for Grade 2 should take about 20 minutes a night. If your daughter/son has difficulty completing an assignment in this time  frame, just send in the incomplete page, and we'll go over it in class.